Account-Based Marketing Strategy for brandmed
We defined priority accounts, outlined the topics & messaging that would resonate with them, and created a content pipeline to build engagement. All of this is to help brandmed kickstart their first ABM campaign.
About brandmed
brandmed is a full-service digital agency for healthcare brands. Having previously relied on cold outreach, brandmed needed to communicate its services better and build relationships with best-fit clients.
Established by medical doctors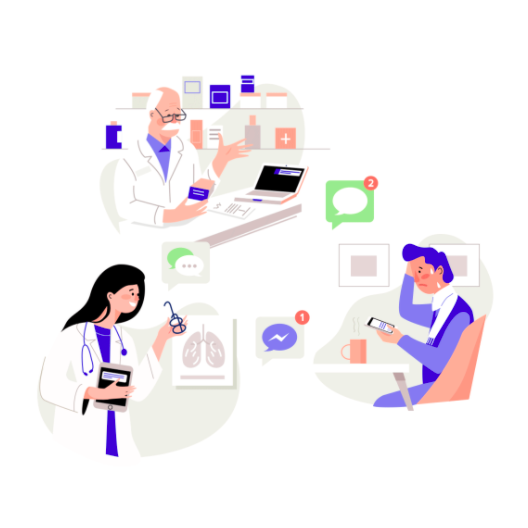 Outbound Reimagined
Together with brandmed, we built an engagement framework for best-fit, high-value accounts that match the Ideal Customer Profile.
We ran market and customer segmentation to set the criteria that describe best-fit clients.
Based on ABM buyer personas, we outlined the topics and messages that resonate with them.
With insights on target accounts and buyer personas within them, we built a messaging matrix to engage decision-makers.
Read the case study in a simplified PDF format
How brandmed built its first ABM strategy from scratch
Warsaw, Poland
brandmed was ready to up their outbound game and try Account-Based Marketing. It needed guidance and assistance with identifying and listing target accounts, as well as defining the topics and messages for personalized content offers.
Targeted Accounts
Large pharmaceutical companies in Poland, the United Kingdom, U.S., Scandinavia, Middle East, Switzerland, and the Netherlands. 1000+ employees, with revenue over 500 mln€. Other segments of target accounts (Tiers 2 and 3) include big pharma companies in Germany and France, as well as elsewhere in the world but with a minimum of 1 mln€ in revenue and 250 people on staff.
Challenge
Although brandmed was doing outreach with cold calls, it needed a framework of building lasting relationships with a group of best-fit accounts. In order to open discussions with decision-makers in marketing units of target companies, we needed to compile a list of companies matching the Ideal Customer Profile, lay out a messaging matrix, and find ways to raise awareness of brandmed among the big pharma companies to start conversations.
Solution
We started by identifying target markets and defining ICP that would let us compile a list of target accounts. Then we went on to name the biggest challenges these accounts face and translate them into messages that would resonate with decision-makers from marketing units. Afterward, we worked on the messaging and tailored it in a way that would tackle the needs of target companies. Ultimately, we defined multichannel engagement touchpoints that serve as a basis for an Account-Based Marketing campaign.
Results
Based on the topics & messaging map we outlined, brandmed started producing more content tailored to target accounts. They even hired a marketing professional to pursue clear guidelines for in-house content production. The multichannel engagement touchpoints matrix that we built together with brandmed will serve as the foundation for their first ABM campaign that will be executed in the near future.
SOME OF OUR RECENT RESULTS
What results do we have?
Successfully implementing a CRM is like baking a cake. You need the right ingredients, a good recipe, and skill in the kitchen. Luckily, we love cooking.
Give leverage to your revenue with account-based programs.
Book a strategy call with our senior strategists to see how our account-based marketing framework helps you grow your pipeline, scale your team, upsell and cross-sell your services. We can help you:
Digitize your sales process and scale faster
Accelerate pipeline growth
Improve the sales velocity
Conduct consistent pre-sales
Improve marketing ROI drastically
Trusted by